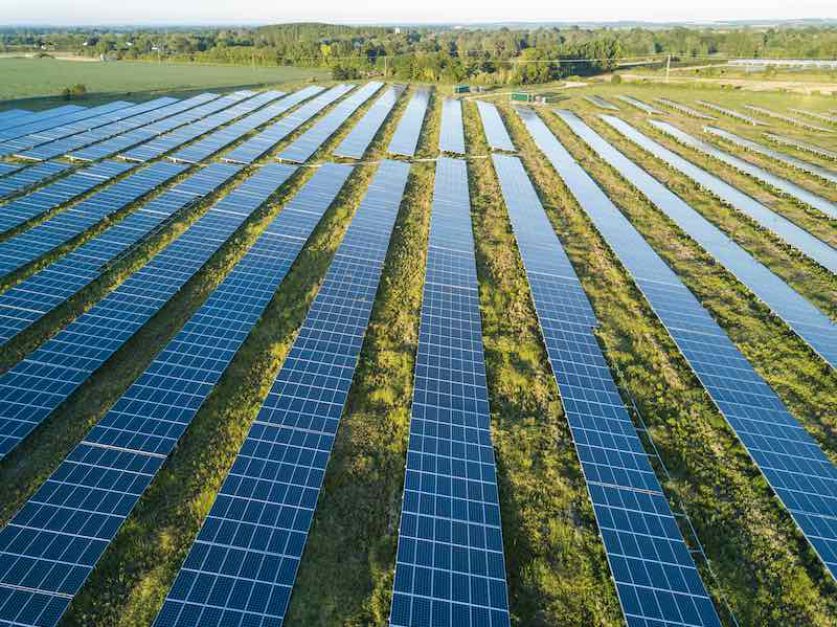 The solar panel industry outperformed expectations last year, bucking pandemic blues and taking advantage of the falling costs of PV installations
545MW of new solar power capacity came online last year, according to new data from Solar Energy UK (the trade body formerly known as the Solar Trade Association) and Solar Media Ltd. New installations were up 27% from 2019 and also outstripped government forecasts for the year.
60% of the new capacity came in the form of ground-mounted systems, while the remaining 40% was installed on rooftops, primarily on commercial and industrial buildings.
However, the closure of the Feed-in Tariff (FiT) scheme to new installations and its replacement by the less generous Smart Export Guarantee and the hiking of VAT rates on PV systems from 5% to 20% has dampened domestic installations.
But the new non-domestic capacity and favourable weather and atmospheric conditions lifted solar generation to new records this year. Solar achieved its all-time peak generation (9.68GW) on 20 April, its highest share of the electricity mix (34%) on 30 May and its highest monthly share of generation (11%) in May.
The new installations mean the UK now has 13.9GW of solar power, according to figures from Solar Energy UK and Solar Media. The government benchmarks total capacity at almost 500MW lower, suggesting, the organisations said, that its data-gathering methods "continue to be unfit for purpose, despite repeated industry calls for this to be addressed."
Solar Energy UK chief executive Chris Hewett said: "These figures show that the government is playing catch-up in its understanding of the strength of the UK's solar energy industry."
Although it may be underestimating solar installations, the government is putting faith in the power source, consulting on plans to install up to 120GW of solar panels by 2050. Solar, which is now "cheapest electricity in history," according to the International Energy Agency, is seen as crucial to the economically achieving the country's net-zero target, especially as electricity demand increases.
More immediately, Solar Energy UK and Solar Media are forecasting robust installations in 2021. Finlay Colville, Solar Media's head of research, said: "The outlook for 2021 and beyond is expected to see continued deployment at the gigawatt-plus level, with investments now flowing into the sector for both rooftop and ground-mount projects."
The UK's surge of solar installations is part of a global trend, according to energy consultancy Woods MacKenzie. Its new report outlines how the cost of solar power has fallen by 90% over the past two decades and will fall another 15% to 25% in the coming decade.
Research director Ravi Manghani said: "As the world strives to recover from the economic slump caused by theCovid-19 pandemic and simultaneously meet the climate andenvironmental goals of the Paris Agreement, solar is uniquely placed toadvance efforts towards a low-carbon, sustainable future."