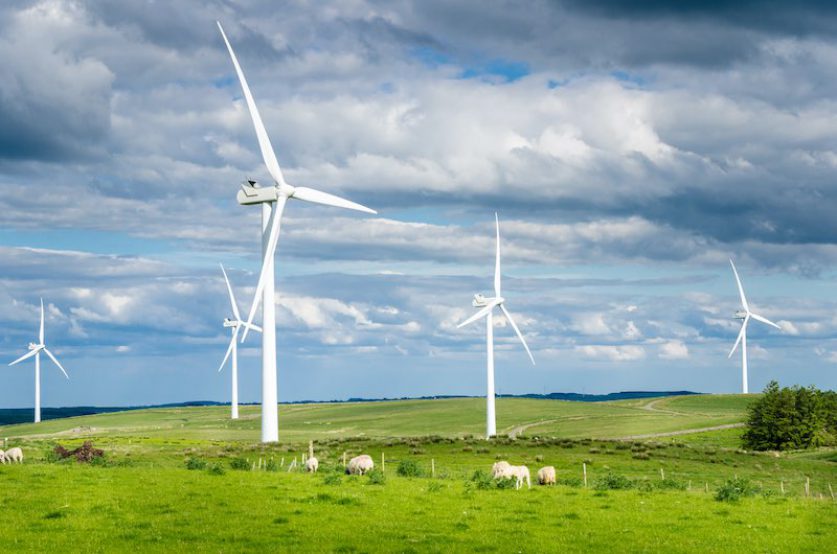 A community-owned wind farm will be built near Coedely in South Wales after receiving £1.1 million of backing from the Welsh Government.
Startup Ripple Energy, which bills itself as "the UK's first ever clean energy ownership platform," has been selling shares in the planned 2.5MW Graig Fatha wind farm to the public since last spring.
Stakes in the scheme, which can be purchased for as little as £25, will entitle investors to discounts of up to 25% on their energy bills through Co-op Energy for the wind farm's 25-year lifespan.
Ripple Energy says the community-ownership scheme allows households that might not be able to install their own renewable generators to directly tap into green electricity. The company has calculated that purchasing a stake in the farm is 75% cheaper than installing home solar panels.
So far 675 households have signed up to own a share of the wind farm, contributing £1.3 million, and the scheme is open to further investment. The wind farm is expected to be operational, generating clean power and discounts, by autumn 2021.
Through the wind farm's Community Benefit Fund (CBF), income generated by the Welsh government's portion of the scheme will be channelled to initiatives supporting local residents facing fuel poverty and to community-directed environmental projects.
Money generated by the wind farm will also be allocated to Fuel Bank Foundation (FBF), a national charity supporting people in fuel crisis.
Sarah Merrick, CEO and Founder of Ripple Energy, said: "Ripple's mission is to make clean energy ownership affordable and accessible. We're hugely grateful to the Welsh Government for its involvement in making that a reality. For too long, people have been sidelined; now they can share the benefits of green energy direct. This is just the beginning of us putting the power in the hands of household consumers."
Lesley Griffiths, Welsh Minister for Environment, Energy and Rural Affairs, said: "I am very pleased that we have been able to support the Graig Fatha wind farm project. Renewable generation in Wales has increased 200% since 2010, and last year renewables produced enough energy to meet half of Wales' electricity needs.
"We are close to our goal of having 1GW-worth of energy production in local hands, with 825MW of renewable energy capacity owned locally. As such, projects such as Graig Fatha, and the model of community ownership of energy schemes, play a crucial role in our move towards becoming a carbon net zero nation by 2050.
"It is also vitally important that renewable energy is not just environmentally friendly, but affordable —particularly as we look to tackle fuel poverty and do all we can to help households meet the cost of their energy bills."