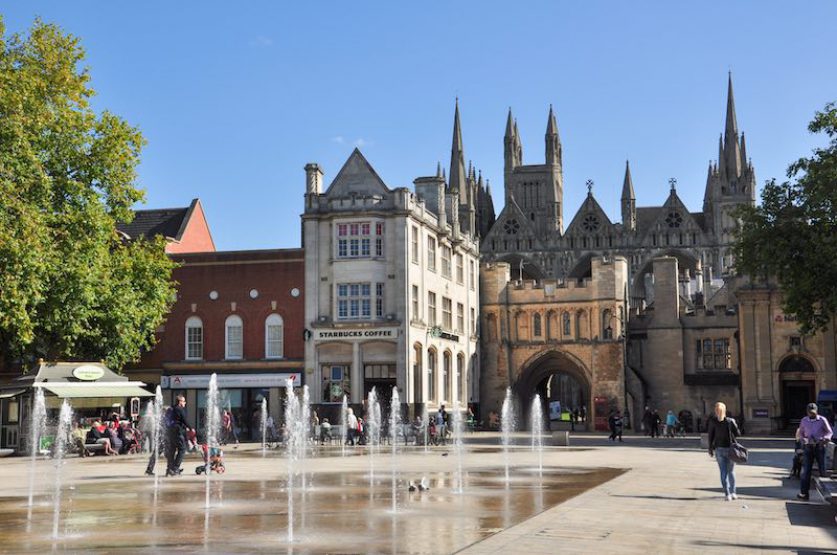 Peterborough has more solar arrays than any other UK city, with one in 10 homes fitted with the renewable energy technology.
A new analysis of government data by Project Etopia revealed that 9,088 of Peterborough's 81,901 households, or 11.1%, have solar panels on their roofs.
Only Stirling in Scotland also has more than 10% of homes equipped with solar panels, according to the green modular housing business.
Wrexham, North Wales; Boston, Lincolnshire; Sunderland, Tyne and Wear; and Colchester, Essex are also leading the race to install PV panels. Each local authority has around 7% solar panel penetration.
But London lags in solar installations. Just 0.64% of households in the capital are equipped with solar panels, compared to the national average of 2.96%. 
Central London boroughs populate the list of the worst-performing local authorities for solar power, with just 0.2% of households in Kensington & Chelsea, Tower Hamlets and Westminster fitted with solar arrays. This may be due to the predominance of blocks of flats and a high percentage of housing stock occupied by renters in the area.
But the best-performing London boroughs—the more suburban Barking & Dagenham, Havering and Waltham Forest— still only managed 1.4% solar panel penetration.     
Joseph Daniels, chief executive of Project Etopia, hailed the best-performing areas but said more work needed to be done to support the proliferation of home renewable technology.
"Britain has never been greener and these towns and cities are trailblazers who we should all look to for inspiration," he said.
"However, in the best performing town, Peterborough, more than 88 per cent of households still lack solar, so there is plenty more to be done. Policymakers and suppliers need to examine why so many areas have particularly weak levels of solar installations while others sprint way ahead. The UK might not be the sunniest place on Earth, but the technology has improved enough over the past 20 years for it to be worthwhile anywhere in the country."
Project Etopia analysed data from the feed-in tariff scheme released by the Department for Business, Energy and Industrial Strategy (BEIS). The feed-in tariff scheme paid small renewable generators for the green energy they produced and consumed.
From its launch in 2010 and its closure in 2019, the scheme supported the installation of 6.2GW of renewable capacity, the majority of it in solar PV arrays. The shuttering of the scheme last April sent new solar panel installations plunging by 94%, drawing criticism from environmental groups and the renewables sector. The scheme has since been replaced by the less generous Smart Export Guarantee (SEG).
Altogether, the UK has 13GW of installed solar capacity, which generated 6% of the country's electricity in the third quarter of last year. 46% of that capacity comes from large solar farms, like the 72.2MW Shotwick Solar park, but 20% is from small capacity (under 4kW) generators installed on domestic properties. Around 840,000 UK homes have solar panels installed.
Solar power hit a new record this spring, contributing 9.69GW of electricity, to meet 30% of the country's demand, on the afternoon of Monday 20 April.