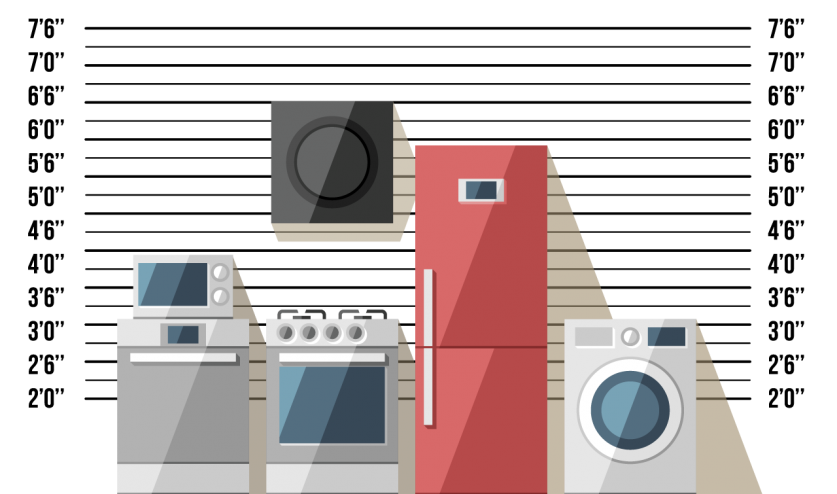 We're often told about the hundreds of pounds that can be saved if we're more efficient with our electricity and, with money getting ever tighter and energy costs rising, it's important to be aware of what appliances are using the most energy.
We've rounded up a list of the worst offenders and included some tips on how to make sure that you're making them work as efficiently as possible so that your costs don't spiral out of control.
 The fridge
Your fridge will, in most cases, be the appliance that uses the most power and can consume up to a third of all the power in your house. There a few ways in which you can minimise this however.
Firstly, don't leave it open. .Your fridge is constantly trying to achieve its optimum temperature so leaving the door even slightly open will make it have the work that much harder and use more energy.
Secondly, make sure you defrost your fridge when necessary. Even a quarter of an inch of ice build-up can seriously damage the fridges efficiency.
Thirdly, make sure you invest in an energy efficient fridge. Amazingly a fridge with an A+++ rating will use on average 80% less energy than a fridge with a D rating. This could not only save you hundreds of pounds in the long run but also means your fridge releases far less Co2 emissions, so you can eat your meals safe in the knowledge you've done your bit for mother earth.
TV
The TV, although not as much of an energy guzzler as the fridge, still makes up for a fairly significant chunk of your household energy usage. The most obvious way to save money is not watch so much of it, but beyond that making sure that it's off and not just on standby can make a surprisingly big difference. The type of TV you buy will also have a big effect, with televisions working on LED technology using on average 25% less power than LCD TVs, and 40% less than plasma screens.
The tumble dryer
The tumble dryer gets used on average 150 times per year in your typical English household and it can be surprisingly expensive. There are various ways in which you can minimise the cost however.
Taking advantage of sunny days by drying clothes on the line can be risky in the temperamental English climate but will also save you a few pennies. Making sure your dryer is full when you use it will help to maximise efficiency and using a spin cycle on your washing machine before you get the tumble dryer going will decrease the amount of time clothes need in order to be dried.
Electric Hob
If you have an electric hob you might be surprised to know that they cost substantially more to run than their gas counterparts. One of the easiest ways to minimise excess energy usage here is to make sure you use both a proportionately sized pot or pan for the food as well as using the correctly sized hob as anything to big or little will be inefficient. Leaving the lid on any pans you use will also help to keep the heat in and this will dramatically reduce the amount of energy needed to cook your food. Making sure you keep your hobs clean will help here as any dirt on the hobs will absorb some of the heat.
Dishwasher
The dishwasher will generally be one of your least energy intensive appliances, often using less energy than washing up using hot water in the sink. However, this doesn't mean it should be ignored when thinking of ways to improve efficiency.
One simple way to keep things efficient is to make sure that you fill it fully and correctly to make sure that one rinse will get the best results and clean the most dishes. There are also various helpful settings that most modern dish washers come with – the more energy efficient of these will take a longer time but use less power as they will be washing at a lower temperature.
Kettles
Everyone likes a nice cup of tea, but you won't believe how much better it tastes when you're saving money at the same time. Making sure that you only boil the right amount of water that you're using is a key way to make sure that you're not wasting energy.
Lights
Lights are something that people are so accustomed to that they do not even realise when they are on. It's important to remember to switch the lights in your house when you are not using them, and to try and buy energy efficient bulbs to make sure they last as long as possible.