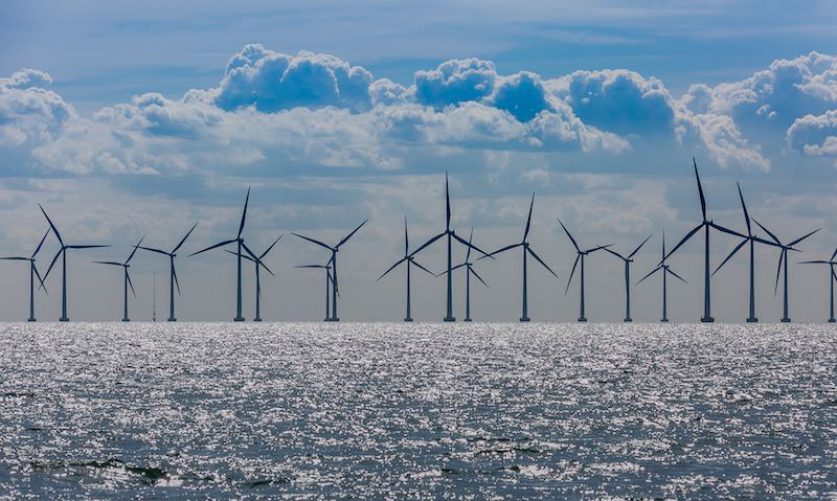 Renewables could generate meet more than three-quarters of the UK's power needs by midcentury, as clean energy capacity surges, RenewableUK has forecast.
The trade body's new report, Powering the Future: RenewableUK's Vision of the Transition, details how the government can deliver its net-zero ambition by 2050, envisioning a central role for wind power and green hydrogen in the transition.
Wind power capacity could grow six-fold to 120GW in the next three decades, including 90GW from offshore wind, the report suggests. 
The UK has become a world leader in offshore wind, attracting nearly half (48%) of the £80 billion invested in the sector across Europe since 2010. However, meeting the UK's net-zero target will require an additional investment of £54 billion to bring offshore capacity—currently at 22GW—to 40GW by 2030 and have offshore wind contribute a third of the country's power. 
This clean electricity will then be harnessed by a flexible, smart grid to power transport, including electric vehicles, and heat homes using heat pumps.
Dramatic growth in the renewables sector will also be contingent on favourable government policy. The trade body is urging the government to increase the frequency of auctions for clean power contracts, holding them annually instead of once every two years.
The government should also implement and build on the existing Smart Systems and Flexibility plan to deliver local and national flexibility markets, which will allow consumers to adapt their energy consumption in response to patterns of supply and demand, using electricity when it is cheapest. Consumers will also be able to sell power stored in electric vehicles and other batteries back to the grid when it needs it most.
Additionally, the government should foster the development of innovative renewable technologies beyond wind turbines, including floating wind farms, tidal power installations and green hydrogen facilities.
Green hydrogen in particular has "huge potential" as a zero-carbon alternative for fossil fuels, especially for heating homes and in heavy industry and shipping.
RenewableUK chief economist and report author Marina Valls said it was "an incredibly exciting time" for the energy sector. "We're entering an era of rapid technological change as we move closer towards total decarbonisation, using an even wider range of technologies such as renewable hydrogen alongside more wind, solar, battery storage and—crucially—people participating far more pro-actively in the way our modern energy system operates, making it more flexible," she said.
The benefits of the clean energy transition would also be felt by households, which will see their energy bills fall as the cost of renewable energy tumbles, Valls said.
"Renewable energy sources are penetrating the global energy markets faster than anyone expected, and generating power cheaper than fossil fuels sooner than anyone predicted. In the world we are trying to build, the transition to a modern energy system ultimately means two things: reduced emissions and reduced energy bills for households."