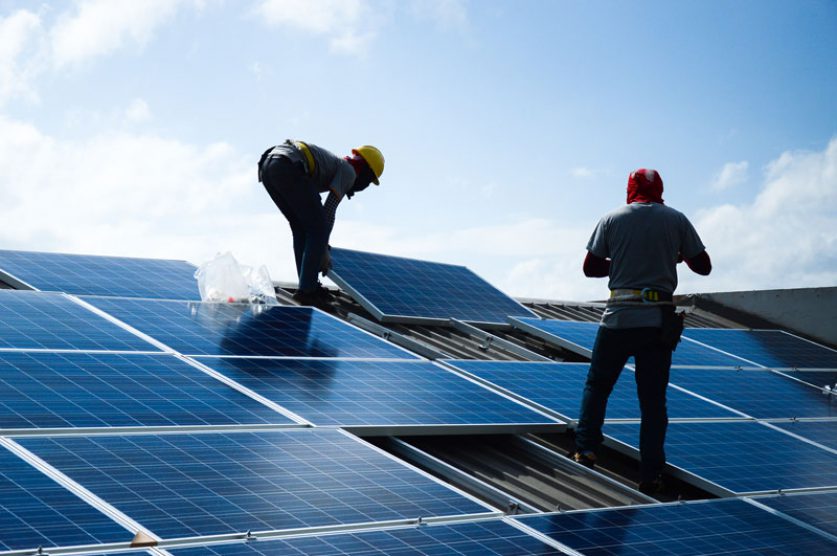 E.ON is knocking £400 off the cost of its roof solar panel systems, in a Black Friday sale.
The Big Six supplier has been selling households solar panel and battery systems since the spring of 2017. E.ON offers one-, two-, and three-year, interest free financing packages for the systems, which cost between £4,000 and £7,000.
Now, in a Black Friday deal running until 29 November, E.ON is reducing the costs of these systems by £400. And you don't have to be an E.ON energy customer to receive solar panels from the supplier or benefit from the deal.
E.ON estimates that the average household with a solar panel system can cut £400 from their annual electricity bill.
Dr Jon Kirby, Head of Solar and Storage at E.ON UK said: "At E.ON, we're committed to ensuring customers have the opportunity to be part of the energy revolution. With a growing desire to adopt self-generation systems like solar and battery storage, we're proud to offer innovative new deals like our 'Black Friday' offer, to help drive further take-up of technologies that can have a significant and positive impact on our home energy.
"By taking power into our own homes and generating our own clean energy, we can take a step closer in helping to create a better tomorrow. We know how important renewable technologies are in the battle against climate change, which is why we're leading the way and helping customers take part."
While the use of solar panels, both in large farms and small installations on homes and businesses, is seen as crucial to helping the UK decarbonise its energy supply, rates of installation of the systems on homes have fallen, as government subsidies have been withdrawn.
Following the closure of the Feed-in Tariff (FiT) scheme at the end of March, solar panel installations on homes tumbled by 94%.
Installations of solar panels have also been dampened by a controversial VAT hike on the systems, from 5% to 20%, which came into effect in October.
The feed-in tariff scheme is being replaced by the Smart Export Guarantee (SEG) on 1 January 2020, requiring large energy suppliers to pay households for surplus energy they generate and export back to the grid.
However, the SEG is seen as less generous than the Feed-in Tariff scheme, as energy suppliers will set their own rates for buying this energy. This may add another dimensions to households' search for an energy supplier, as they hunt for both the best supply tariff and the best export rate.
Additionally, while the FiT scheme offered two payments—one for the electricity the generated and another for the amount exported, assumed be 50% of what was generated—the SEG scheme will pay homeowners just for the amount generated
To bridge the gap between the Feed-in Tariff scheme and the Smart Export Guarantee, in March E.ON launched a Solar Reward scheme. They offered the first 500 customers who installed solar PVs via their solar programme 5.24p per kilowatt hour of electricity they exported by the grid, the same rate paid out under FiT.