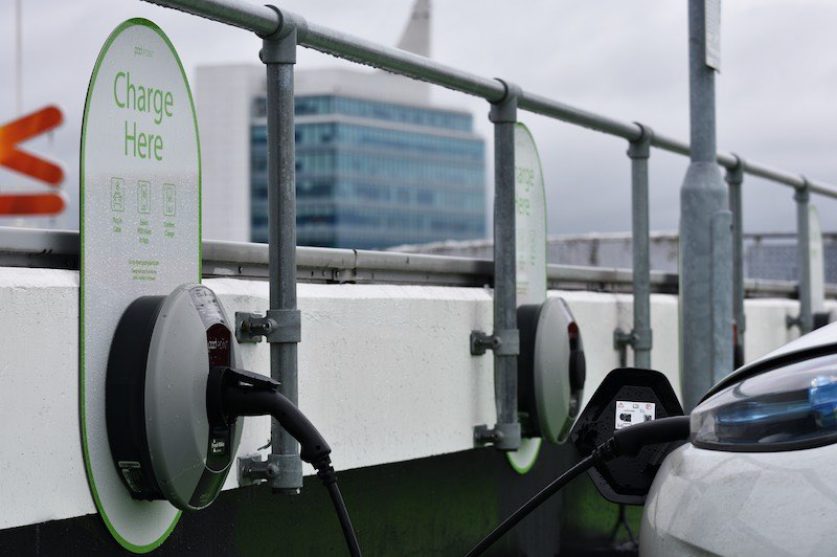 The UK must accelerate its rollout of electric vehicle charging points over the next decade to prepare for the ban on the same of new petrol and diesel vehicles by 2030, a think tank has argued.
Policy Exchange, a centre-right think tank based in London, said a slower rollout would leave rural areas underserved and make the switch to electric vehicles inconvenient for drivers. Currently, EV charging infrastructure is spotty in many places.
According to data from the Department for Transport, Northern Ireland boasts just 16 public charging points per 100,000 residents, with Yorkshire and the Humber (17 chargers/100,000 people), the West Midlands (17) and the East of England (18) all underserved.
The network is expanding quickly, but not fast enough. Between 2017 and 20202, an average of 7,000 new public charging points came online each year. New installations must double to 35,000 each year throughout the 2020s, nearly double the 20,775 public charging stations live in January 2021, Policy Exchange said.
To reach this number of installations, the government should procure charge points for underserved areas through competitive tenders, using the same auction process as for renewable generation capacity, Policy Exchange argued. It also said the government would fund dedicated "Chargepoint Teams" in local authorities, which can coordinate with planning committees, highways management and sustainability staff to facilitate local rollouts.
An evenly distributed, reliable and convenient charge point network would overcome consumer resistance to switching to electric vehicles, Policy Exchange said. It said charge point operators should have full interoperability and live data sharing and allow drivers to pay through a single app. Charge points should also be highly reliable, with broken charge points repaired quickly.
Ed Birkett, researcher at Policy Exchange and co-author of the report, said: "To make EVs a practical choice for all drivers, the U.K.'s network of public charge points needs to expand rapidly." But without reforms, "the rollout of EV charge points will remain uneven, with fewer in rural areas and outside of London and the South East," he cautioned.
Public EV charge points are generally installed in car parks, motorway service areas and on residential streets. While 80% of EV charging is done at home, public charging stations are necessary for refuelling on the go and for motorists who don't have access to off-street parking at home.

Last month, Centrica raised the alarm about the slow rollout of on-street charging stations. It calculated that the number of available on-street charge points will average just 35 per council area by 2025.
In December, the Competition and Markets Authority (CMA) began a study of the charge point market, which it says must make charging EVs as "straight-forward" as refuelling at a petrol station. The study, to be concluded by the end of the year, may lead to the competition watchdog making policy recommendations to the government and regulatory bodies.
National Grid is anticipating as many as 30 million electric vehicles on roads by 2040 and says the grid will be prepared to meet a surge in electricity demand.