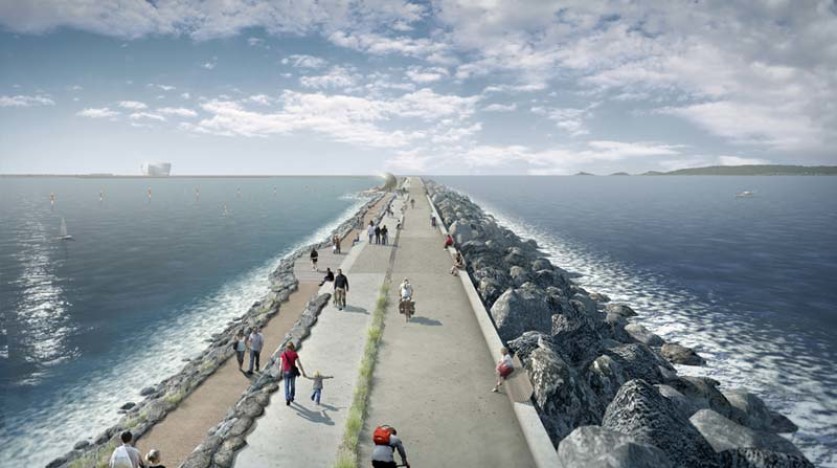 In recent days the UK government has cancelled plans for a tidal lagoon in Swansea bay, citing a lack of potential economic viability.
The plan was for an enormous lagoon built off the Swansea coast, surrounded by huge breakwaters, with a single gap to allow the tide to flow in and out, filled with turbines driven by the power of the water.  The Welsh Assembly had already ringfenced £200 million towards the project, with total expenses estimated to be somewhere around £1.3 billion.  The project wouldn't purely concern itself with energy production, but would also  be a tourist attraction, centre of UK technological innovation, and a vital source of jobs for the Welsh economy, both in construction and maintenance.
Secretary for Business and Energy, Greg Clark, stated that the project was too expensive compared to alternative renewable energy sources, such as wind and nuclear power.  Clark said: "The inescapable conclusion of an extensive analysis is, however novel and appealing the proposal that has been made is…the cost that would be incurred by consumers and taxpayers would be so much higher than alternative sources of low-carbon power that it would be irresponsible to enter into a contract with the provider."
He cited figures of up to £700 in costs paid by the average UK energy consumer, as the lagoon would require decades of subsidisation by household energy bills, and that the new Hinkley Point C power station in Somerset would be three times cheaper per unit of electricity generated.
Numerous arguments have been put forward by Welsh Ministers and other government figures for reversing the decision.  A government-commissioned report by Charles Hendry, the former energy minister, backed the proposal back in 2017, and Mr Hendry said that the lagoon should still be built as a prototype and testing ground for technological improvements aimed at making the process of producing energy more efficient.
Keith Clarke, Chairman of the lagoon's proposers, Tidal Lagoon Power, expressed his disappointment at the government's abrupt decision: "There has been no negotiation and it is not unreasonable to expect that government will now be willing to meet and discuss its position on Swansea Bay Tidal Lagoon in some detail.  We have already requested that meeting."
Part of the controversy over the cancellation concerns the government's preference of the Hinkley Point C nuclear power plant.  The energy price granted for that power station when it starts to produce electricity was £92.50 per megawatt hour, whereas the developers at the Swansea project only asked for £89.90/MWh, which was still cited by the government as too high a price.  The Hinkley Point and Swansea plants have constantly been compared, especially regarding security concerns about the Somerset site, which is being built by France and China and is facing problems over nuclear waste disposal.  On the other hand, Swansea's useful life is estimated to be over four times as long as Hinkley's, with no dangerous emissions or waste, and built in its entirety by British companies, therefore feeding money back into the British economy.